Kaidan PROJECT: WALLS GROW THIN
Presented in Association with East West Players


You receive a letter from a woman who is haunted by a mysterious event in her past—and she needs your help

When you arrive at her family's warehouse, you ascend to the fifth and sixth floors in a creaking freight elevator, followed by a voice that calls out through the shadows, drowning you in echoes of wells and engines and graveyards, in tangles of hair and snow, in sharp reflections of your darkest moments—a voice that may not be human.

Kaidan Project: Walls Grow Thin is a multi-sensory, immersive, site-specific experience refracting ancient Japanese ghost stories through a modern, multi-cultural lens, revealing the noise of our histories and the silences that haunt us. A small group of twelve enters a room alone, the walls begins to thin, and a dark spirit stirs within you - will you ever escape it?

Kaidan Project: Walls Grow Thin is an immersive experience in 10,000 square feet of warehouse space and combines masked and unmasked actors, highly expressive physical performance, interactive sets, multiple puppetry traditions, projected media, sophisticated special effects, and illusions. It is not recommended for audience members who are not comfortable with walking, ducking, navigating small spaces, standing for periods of time, loud noises, moments of complete darkness, or being alone. Because of its nature, the show is not wheelchair accessible and audience members must be able to navigate stairs on their own, however Rogue Artists Ensemble will be offering a special modified matinee performance AT 2PM of the production that is wheelchair accessible.

Written by Lisa Sanaye Dring and Chelsea Sutton with Rogue Artists Ensemble


PREVIOUS PERFORMANCES

Secret Mid City Warehouse, Los Angeles, 2017
PRESS

"A BEAUTIFUL AND MACABRE WORLD… an impressively detailed experience… I happily recommend this show" — Terry Morgan,
Talkin' Broadway

"
A THOROUGHLY ENTERTAINING TRIP… part haunted house, part art installation, part performance-art piece... increasingly wondrous… lovingly designed to engage a variety of senses" — Margaret Gray, Los Angeles Times
"BRILLIANT… Rogue/EWP have earned a place in one of the weirdest, coolest supernatural monster traditions on the planet… Kaidan is a really good show.
" — Eric Larkin, Dwarf & Giant
"A MASTERPIECE… 10 out of 10…. My mind is still reeling from the experience." — Patrick Chavis, LA Theatre Bites
"A FASCINATING ADVENTURE INTO THE UNKNOWN… As artistically beautiful and complex as it is otherworldly… Get ready to have your mind blown… I can't rave about it enough." – Ellen Dostal, Broadway World
"KUDOS… DARK, SCARY AND SINISTER… an immersive haunted house setting with ghostly twists and turns…the talented cast successfully conveys the mystifying and chilling nature of these ageless tales from Japan. Get ready to jump right into the middle of these legends." — Elaine Mura, LA Splash
VIDEOS

PHOTOS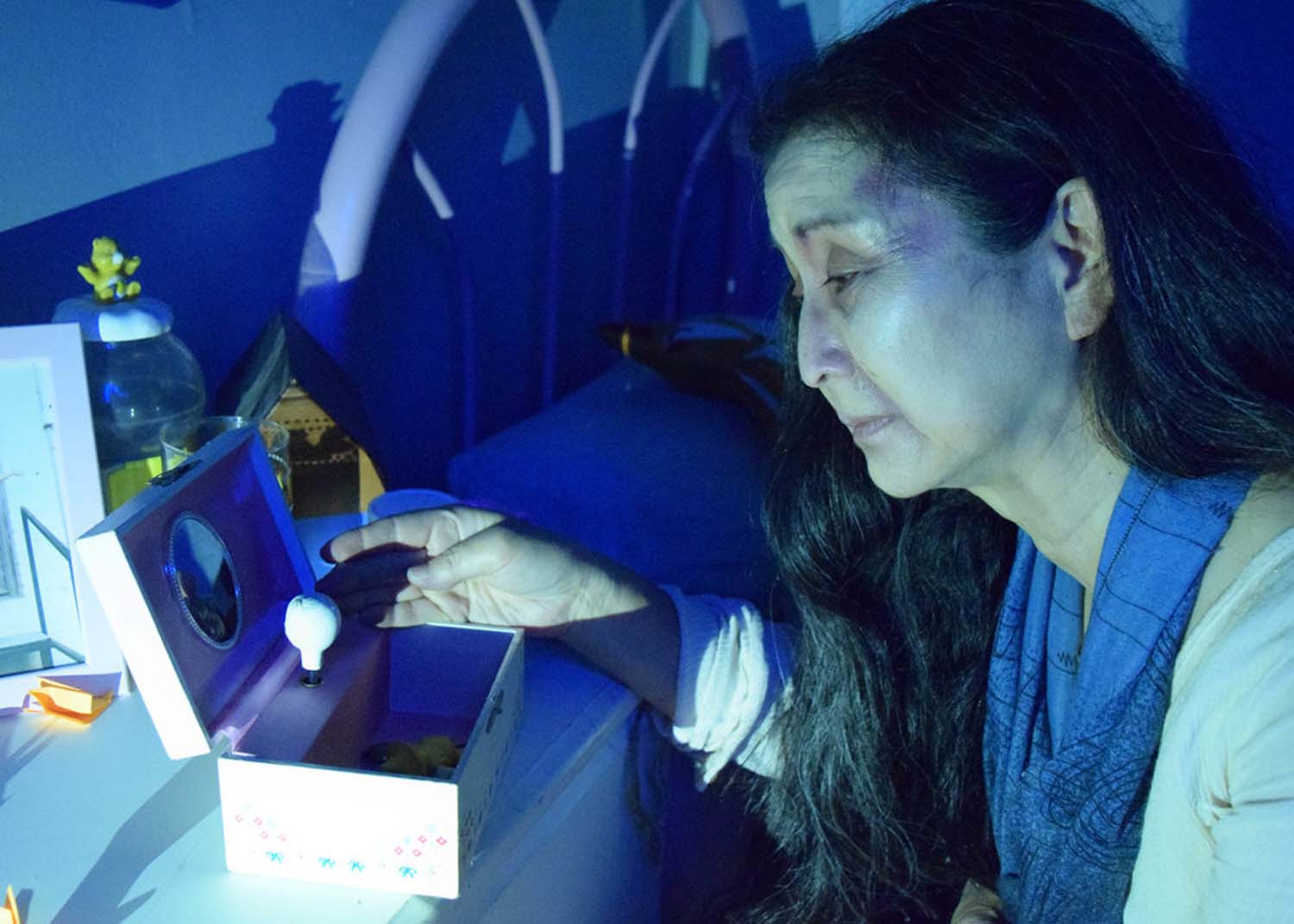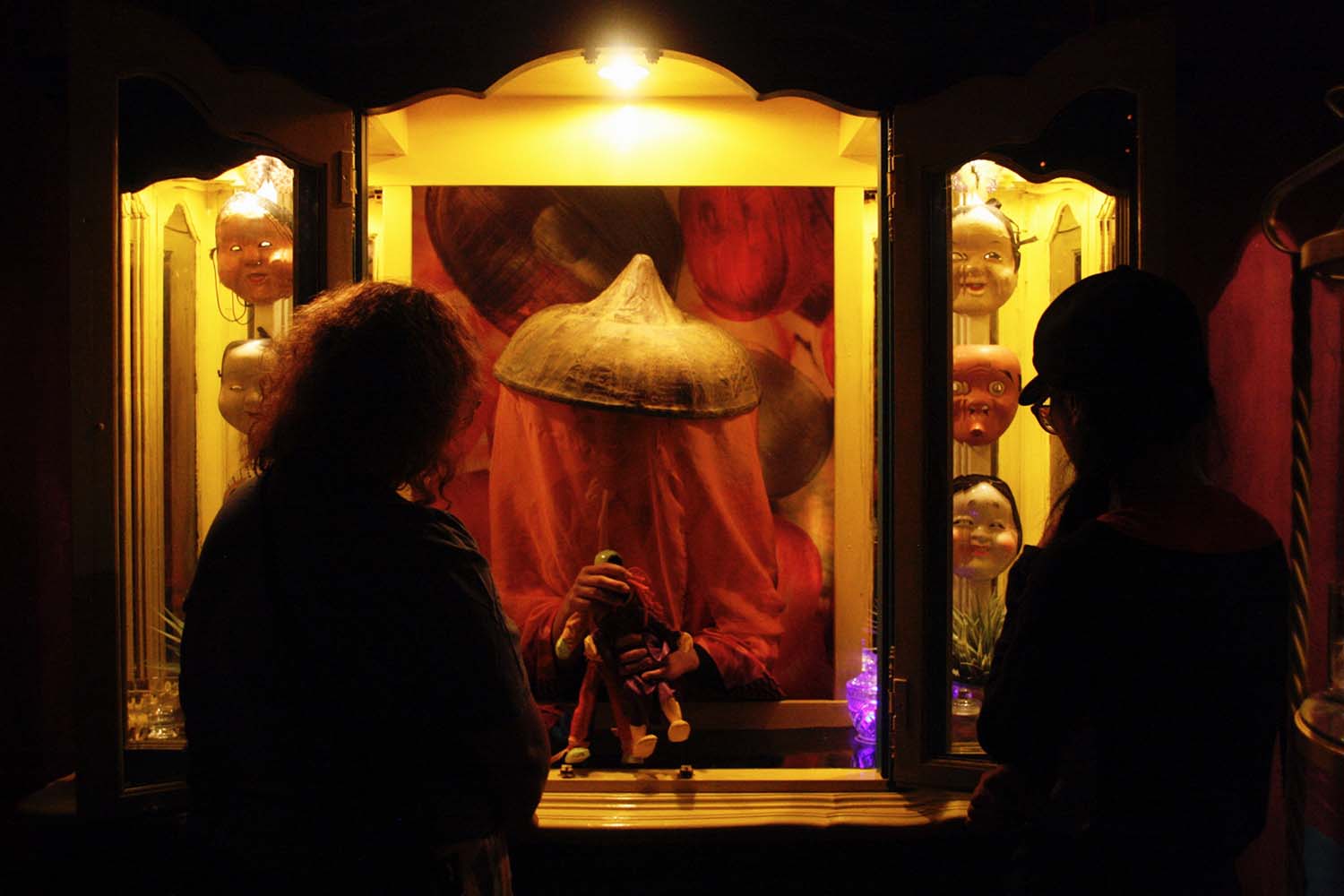 Creative Team

Lisa Sanaye Dring - Playwright, Development Team
Chelsea Sutton - Playwright, Development Team
Sean T. Cawelti - Director, Puppet & Mask Design, Development Team
Spencer Williams - Dramaturg, Immersive Consultant
Anil Margsahayam - Production Manager
Amanda Eno- Stage Manager
Adrien Prévost - Composer
Keith Mitchell - Scenic Design
Dillon Nelson - Scenic Design
Karyn Lawrence - Lighting Design
Stephen Swift - Sound Design
Gilly Moon - Sound Design
Lori Meeker - Costume Design, Development Team
Monique Paredes - Hair & Makeup Design
Jack Pullman - Puppet & Mask Design
Brian White - Puppet & Mask Design
Glenn Michael Baker - Properties Design, Associate, Scenic Design
Matthew G. Hill - Projection Design
Pete Hickok - Technical Director
Darcie Crager - Assistant Director
Liam Sterbinsky - Associate Lighting Design
Jazz Hager - Assistant Costume Design
Sara Haddadin - Assistant Projection Design
Greg Ballora - Associate Puppet & Mask Design
Christine Papalexis - Puppet & Mask Design
Morgan Rebane -Puppet & Mask Design
Jeremy Hohn - Lead Assistant Stage Manager
Sarah Bond - Assistant Stage Manager
Gina De Luca- Assistant Stage Manager
Shih-Wei "Willie" Wu - Music Consultant
Jessica Hanna - Movement Coach
Joyce Lu - Movement Coach
Wesley Chew - Master Electrician
Shigeru Taji - Cultural Consultant
Jasmine Orpilla - Paranormal & Cultural Consultant
Devin Schiro - Videographer
Susan Gordon - Publicist
Snehal Desai - Development Team
Noelle Hoffman - Development Team
Sarah Kay Peters - Development Team
Miles Taber - Development Team

PERFORMERS

Dawn Anderson
Yiouli Archontaki
Tyler Bremer
Tom Dang
Lara Thomas Ducey
Eric Fagundes
Julia Garcia Combs
McCristol Harris III
Heidi Hilliker
Tane Kawasaki
Steve Jun
Jolene Kim,
Amir Levi
Thomas Isao Morinaka
Jasmine Orpilla
Ricky Pak
Robert Paterno
Sarah Kay Peters
Jonathan Reich
Anthony Rutowicz
Miles Taber
Randi Tahara
Paul Turbiak
Kiki Yeung
Reggie Yip

SPONSORS

Kaidan Project: Walls Grow Thin is supported by the National Endowment for the Arts, Venturous Theater Fund of Tides Foundation, City of Los Angeles Cultural Affairs Department, Los Angeles County Arts Commission, City of West Hollywood Arts Commission, the Japan Foundation, Japanese Garden in Van Nuys, the Jim Henson Foundation, Macy's and the United Neighborhoods Neighborhood Council.