SONGS OF BILITIS
Commisioned by The Getty Villa


How did a flamboyant heterosexual avant-garde Parisian novelist successfully impersonate a lesbian Greek poet in the most elaborate erotic literary hoax the world has ever known?

Combining multi-media projections with puppetry, movement, sophisticated live audio-sampling and larger-than-life Greek masks, Rogue Artists Ensemble transports the audience through a world of sexual power struggles and changing identities in this erotic psychological thriller based on a true story.

Originally commissioned by and workshopped at the Getty Villa in 2012, Songs of Bilitis is adapted by Katie Polebaum and Rogue Artists Ensemble from the French erotic novel by Pierre Louÿs. At the turn of the 20th-century, Louÿs captured the imaginations and libidos of the literary world when he penned an extensive collection of exquisite and sensuous poetry by a fabricated Greek courtesan named "Bilitis." Holding a false place in the canon of classical Greek erotic literature for nearly ten years, Songs of Bilitis became the world's greatest work of counterfeit Greek erotica.

Contains nudity and adult language.

PREVIOUS PERFORMANCES

The Bootleg, 2013
South Coast Repetory, 2013
The Getty Villa, 2012
PRESS

"Rogue Artists Ensemble, under the distinctive hand of director Sean T. Cawelti, applies its signature mixed-media stylings of shadow play, puppets, masks and ritualized movement to their best effect yet. The perfumed flamboyance manages to be simultaneously solemn and goofy, grave yet playful. Their lens may be contemporary, but within that perspective they immerse themselves deeply into fin de siecle bohemian sensibility, conveying a dripping wetness of sweat, smoke and other indiscreet secretions." - Hollywood Reporter
VIDEOS

PHOTOS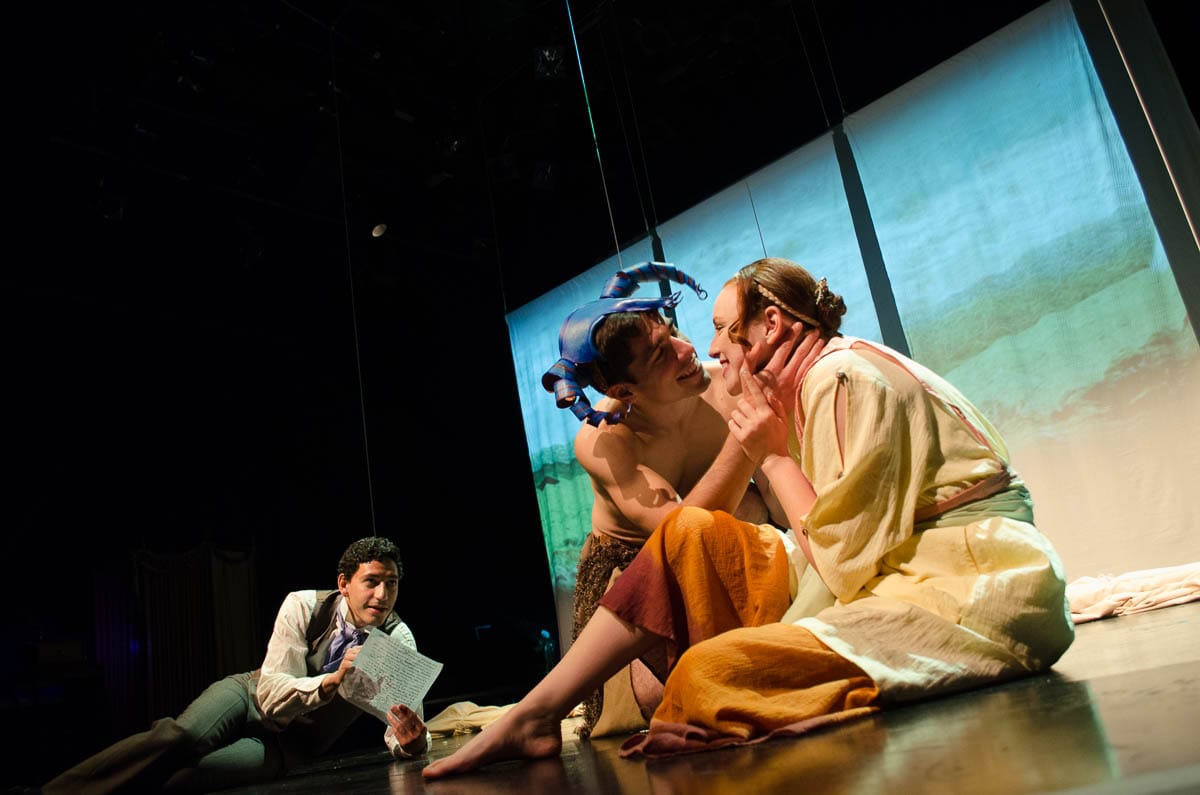 Creative Team

Katie Polebaum - Playwright, Development Team
Sean T. Cawelti - Director, Development Team
Ego Plum - Composer, Development Team
Nate Hodges - Choreographer
Shannon G. Bicknell - Production Stage Manager
Alexis Nicole Robles - Stage Manager
Sarah Kranin - Scenic Design
Matthew G. Hill - Projection Design, Development Team
Hale Freeman - Lighting Design
John Nobori - Sound Design
Kerry Hennessy - Costume Design
Cristina Bercovitz - Puppet Design
Keith Mitchell - Mask Design
Kristopher Bicknell - Assistant Mask Design

PERFORMERS - Bootleg / SCR

Christina Aimerito-Feinberg - Mother, Chorus
Angela Brockunier - Mnasidika, Chorus
Stephen Elrod - Claude, Satyr, Chorus
Estela Garcia - Meriem
Zach Kanner - Lykas, Chorus
Aryiel Hartman - Bilitis
Heidi Hilliker - Selenis, Washer Woman, Chorus
Steve Madar - Georges, Satyr, Chorus
Christopher Rivas - Pierre



PERFORMERS - Getty Villa

Aryiel Hartman - Bilitis
Estela Garcia - Meriem
Christopher Rivas - Pierre
Nina Silver - Chorus, Mother
Taylor Coffman - Mnasidika, Chorus
Amy Judd - Chorus, Selenis, Old Woman
Mario Ibarra - Claude, Satyr, Chorus
Jesse Weinberg - Chorus, Lykas, Satyr


SPONSORS

The Getty Museum and the Getty Villa, South Coast Repertory, Los Angeles County Arts Commission, The Puffin Foundation