ZEN SHORTS
Produced by special arrangement with Scholastic Books


A GIANT PANDA IS OUTSIDE THE WINDOW


Based on the Caldecott-winning book, Zen Shorts follows three siblings as they navigate the pressures of school, friendship, and the struggles of growing up. But everything changes once a Zen master panda named Stillwater moves into their neighborhood and shares three simple Zen tales that illuminate their world. Using Hyper-theatrical puppet performances, magical video projections, and original songs, Zen Shorts is an adventure filled with imagination, love, and panda philosophy.

Produced by special arrangement with Scholastic Books.


PREVIOUS PERFORMANCES

School Tours and Special Performances throughout California, 2012 - 2019
Pasadena Playhouse, 2017
National Puppetry Festival, Minnesota, 2017
Atwater Village Theatre. 2014
Segerstrom Center for the Performing Arts Premiere, 2012
PRESS

"Be warned, the organization is not responsible for any sudden outbursts of good will, drowsy or coma-like behavior, unplanned smiles and quiet laughter, or acts of blatant generosity after experiencing this presentation…And the performers are absolutely amazing! The puppets are wonderful, as are the calming music and songs and visual enhancements."
-Dennis Sparks, All Things Performing Arts
"I really enjoyed how Stillwater invited the crowd to give their own answers to the concept of zen. There were opportunities for the crowd at times to interact with the puppets during the production, which was great for keeping the kids interested and not afraid to speak out and express their joy…I also thought the use of humor in Zen Shorts was perfect; simple enough for our six-year-old, yet clever enough to keep the adults chuckling as well. Thanks to the wise teachings of Stillwater through his telling of stories, the idea of achieving peace and enlightenment can be understood by ages three to three hundred. Zen Shorts is an amazing show for kids of all ages."
-PDX Kids Calendar
VIDEOS

PHOTOS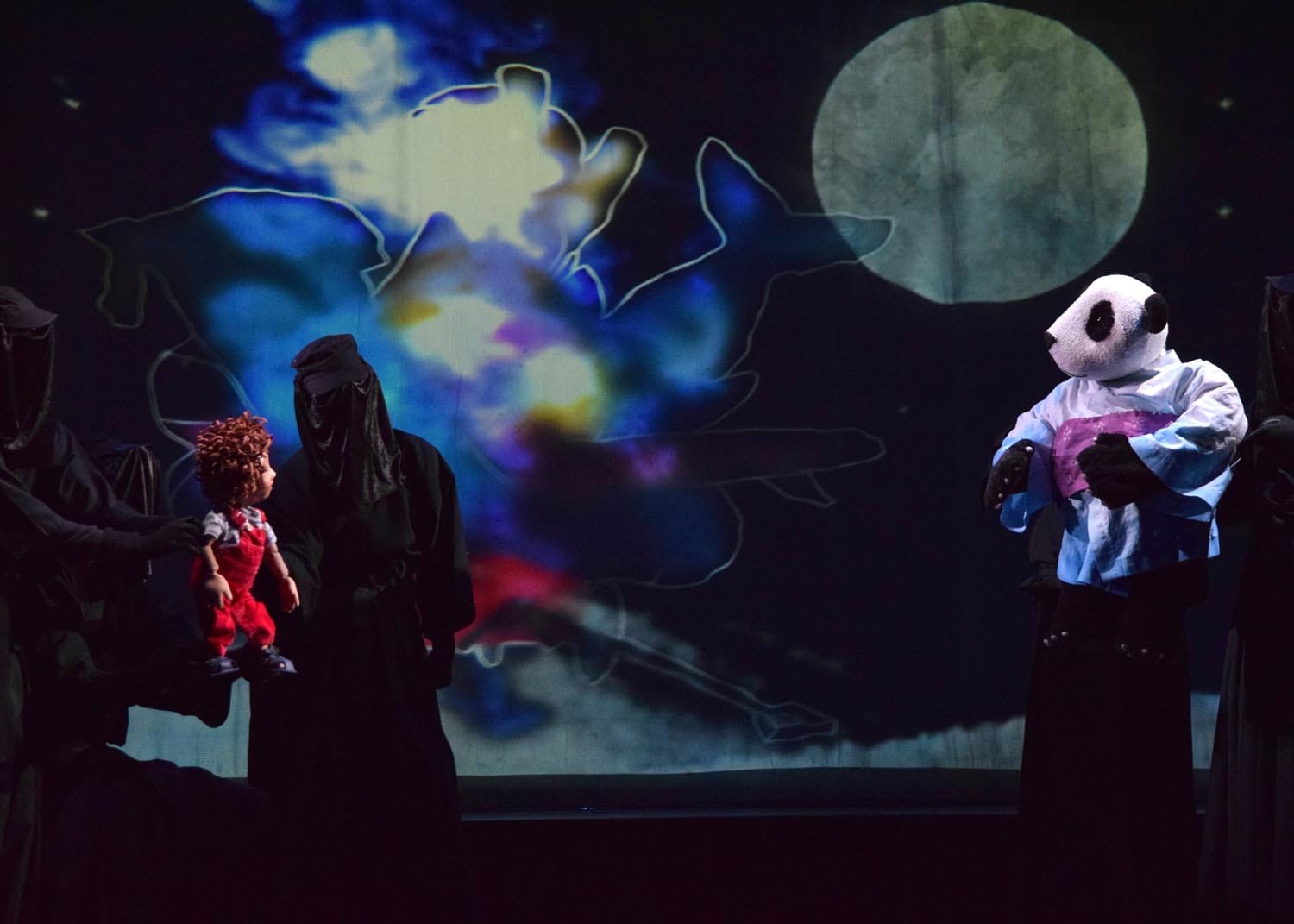 Creative Team
Adapeted for the Stage by - Elizabeth Wong, Skyler Gray, Sean T. Cawelti, Miles Taber, Matthew Hill, Landon Johnson, with Rogue Artists Ensemble

Elizabeth Wong - Playwright, Development Team
Sean T. Cawelti - Director, Puppet Design, Development Team
john Nobori - Director, Development Team
Thu Tran - Composer , Development Team
Noelle Hoffman - Composer, Sound Design
Adrien Prevost - Composer **
Matthew G. Hill - Scenic Design, Development Team
Pete Hickok - Scenic Design, Technical Director
Gwyneth Conoway Bennison - Costume Design
Lori Meeker - Costume Design **
Joey Guthman - Lighting Design **
Stephen Swift - Sound Design **
Dallas Nichols - Projection Design
Glenn Michael Baker - Properties Design
Greg Ballora - Puppet Design
Kristin Charney - Puppet Design
Adrian Rose Leonard - Puppet Design
Christine Papalexis - Puppet Design
Jack Pullman - Puppet Design **
Christina Aimerito-Feinberg - Assistant Director, Development Team
Landon Johnson - Development Team
Miles Taber - Development Team


** 2014 productions and on only

PERFORMERS - VARIOUS
Amy-Judd Lieberman, Alex Walters, Andrew Perez, Kris Bicknell, Libby Letlow, Emory Royston, Miles Taber, Sarah Kay Peters, Anil Margsahayam, Glenn Potter
SPONSORS

Zen Shorts is produced by Rogue Artists Ensemble with special permission from Scholastic Books and is made possible by the Munroe Family Foundation, Culver City Arts Foundation, Sony Pictures Entertainment, the National Endowment for the Arts and the generosity of countless Rogue Supporters. Special support comes from Epson and the LA Guild of Puppetry.